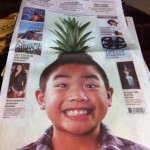 Call me old-fashioned.  Until this morning, I looked to the front page of the L.A. Times as my arbiter of important news. Instead, I'm met with "Complete Edition Inside" and this cheesy mug of a kid with a pineapple growing out of his head.
Now, I know the Times is struggling and they're tweaking their Advertisement versus Content versus Subscription model. Sure, this is better than last year's Southland and Alice in Wonderland mashup of content/advertorial, but I don't think the Times has found the right mix. Last year's "Mad Hatter" front cover reportedly netted the paper $300,000. What did Kraft pay for this wraparound?
It looks as if  I need to go straight to the source to get sifted, intelligent, verified content. I just started following Times columnist James Rainey on Twitter.  But, columnists–BEWARE! When I shared a Steve Lopez  link with a friend just now, the Times gave me a default thumbnail of an ADVERTISEMENT to accompany the Facebook post. I had to click through 25 pictures to instead insert the inked drawing of Lopez's mug.
Columnists, scientists, professors and poets!! Fight for the right to have your work VERIFIED!  James Rainey, Steve Lopez, Michael Hiltzik, Bill Plaschke and T.J. Simers (ok, maybe not): your work is more important than Brittany Spears, Lady GaGa and Charlie Sheen–and they all have Verified accounts on Twitter.
Yet, in addition to selling my precious front page, the L.A. Times doesn't stamp its own columnists as verified on its own website.